Accidents happen, let Hoselton get you back on the road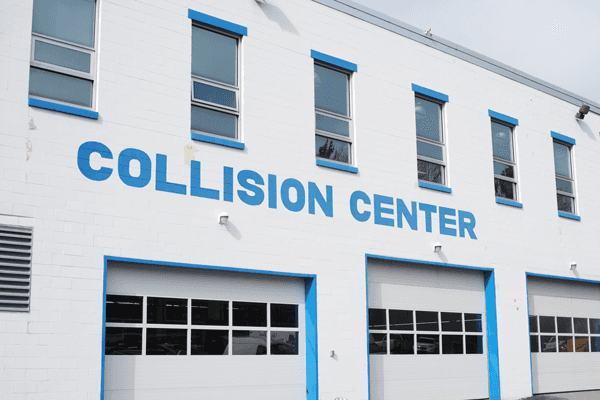 Accidents can happen to anyone at any time and it's not something anyone wants to deal with. You have to call a tow truck, call the police, file a claim with the insurance company and wait for the repairs to be done all while you are just hoping and praying your car looks and runs like it did before the crash.
Unfortunately, we can't stop these things from happening but we what we can do is try to make the process of getting you back on the road seamless. From working directly with your insurance company to ensuring the repairs are done to the highest standards, Hoselton Collision is here to get you back in one piece.
Many of our customers have the same questions when they first call us – do you take my insurance, can you work on my vehicle, how long will it take — so we've put together some frequently asked questions to help you decide if we're the right collision shop for your repair. If you don't see your question here, just give us a call at 585-586-7373, we're happy to answer any questions you may have!
Q: What should I do if I'm in an accident?
A: Being in an accident is scary and stressful. First and foremost, make sure you and the others involved in the crash are safe. Next steps include calling 911, exchanging pertinent information with the other driver(s) involved and notifying your insurance company. If your vehicle is not able to be driven, have your vehicle towed to Hoselton Collision. You can call us at 585-586-7373. We work directly with Todd's Towing and they can be reached at 585-370-3441.
Q: Do you take my insurance?
A: Yes we do! We work with all insurance companies and with many of them, we have a "preferred shop" status. Each insurance company is different and they may recommend you take your vehicle to another collision center. What we want you to know is that the decision on where to bring your car is yours alone and we hope you choose us to work on your vehicle.
Q: How do I get a rental car?
A: If you need a rental car, we can help you make the necessary arrangements. Insurance companies will only pay for a rental car if you have that option on your policy or if you are the claimant. Check your policy and/or call your insurance company to find out if you have rental coverage and what your specific limitations are.
Q: How can I make an appointment for an estimate?
A: We try to keep it easy and simple. Either give us a call Monday through Friday from 8 a.m. to 5 p.m. at 585-586-7373 or send us an e-mail. We're conveniently located at the corners of Fairport and Marsh Roads in Fairport right behind Hoselton Chevrolet so if you're in the neighborhood, just bring your car to our shop!
Q: How long will it take to get my vehicle back?
A: The answer is – it depends. The process we follow for each vehicle that comes in is the same, regardless of vehicle condition. We will ensure you are updated throughout the process, however, if you ever have questions, please give us a call at 585-586-7373. Our goal is to get your vehicle back to you in pre-accident condition as soon as reasonably possible.
Q: Can you match the paint color?
A. This is likely the most-asked question we hear. Today's modern factory finishes incorporate multiple layers of highly specialized paints. Hoselton Collision has made a major investment in the finest paint system available (PPG waterborne) and constantly upgrades its technology and equipment to ensure that each vehicle's paint matches. We take special pride in our ability to match factory finishes as the final step in the restoration process.
Q: Can I get other service work done on my vehicle while it is in the body shop?
A. Yes. Just let your estimators know what other work you would like done so that he can make the necessary arrangements with the service departments.
Q: Can you work on any vehicle?
A: We sure can! We work on cars, trucks, SUVs both domestic and foreign. Our technicians work to ensure your vehicle looks and drives like pre-accident condition before we hand you back the keys.
Q: Who do I pay my deductible?
A: If your deductible is not waived, it will be your responsibility to pay Hoselton when you pick up your vehicle. If you aren't sure about your deductible, call your insurance agent and he or she will tell you whether your insurance company has waived your deductible or whether it will be your responsibility.
Q: What forms of payment do you accept?
A: We accept Mastercard, VISA, Discover (up to $2,000), cash and personal checks up to $500. Please no third-party checks unless it's an insurance check.
Q: Are you certified?
A: A collision center does not have to be certified by a manufacturer to repair your vehicle, however, we are! Hoselton Collision is a Nissan Certified Collision Repair Shop. That means we have the right tools, equipment, training and facilities to ensure your Nissan is repaired to the manufacturer's specifications and high standards.
Q: Have you won any awards for your work?
A: Well, we don't like to brag because we're just doing our best to get you back on the road but we were recently named 2017 Democrat and Chronicle Rochester's Choice Winner for "Collision Center."
About Hoselton Collision
We have a state-of-the-art facility where we utilize the latest technology including a computerized, color match system to ensure we can duplicate your vehicle's color, software to communicate with your insurance company (which speeds up claims!) and two brand-new paint booths that enable us to provide the best possible finish to our high-quality body restorations. The Hoselton family has been proud to serve the greater Rochester area since 1920 and we stand behind our work.