Auto technicians in high demand; apply today!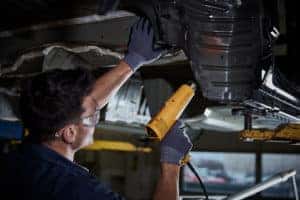 The need for automotive technicians is at an all-time high – and it's no different here at Hoselton Auto Mall.
According a recent blog by the National Automobile Dealers Association (NADA), overall employment at U.S. franchised new car and truck dealerships continues to rise but dealerships are still struggling to find and hire service technicians.
NADA Chairman Charlie Gilchrist said, "We could hire 20 to 30 auto techs immediately. Every store needs techs. Every dealer I talk to is in the same situation. The industry is facing a critical shortage of service technicians."
The need is so critical, the NADA Foundation has launched a new initiative, including a resource-packed website (www.nadafoundation.org), to highlight scholarship opportunities, watch interviews with current technicians and learn about career opportunities. One of the immediate goals of the program is to is to fill OEM technician training programs to capacity.
We have the same needs here in East Rochester as other dealerships around the country. We need skilled and trained technicians to work in our Nissan, Toyota and Chevrolet Service Departments. If you are interested in this career path but don't feel you have the necessary training, we will help train you!
At Hoselton, you are in the driver's seat! If you are looking for more than just a job and want to make a career for yourself at a fair, ethical, community-minded, family-owned business, then we'd like to talk to you!
Why Work at Hoselton?
We offer paid training
We offer a FREE $500 debit card to pay for out-of-pocket medical, dental and vision expenses
We offer health care plans for as low as $10/week
We offer group life insurance, supplemental life and disability insurance
We have a 401k program with a PROFIT SHARE and an EMPLOYER MATCH
We offer generous paid time off and holidays
We offer discounts on vehicles, parts and service
We have a great culture where you can learn new things and grow your career
We have been closed on Sundays since Hoselton opened its doors and we intend to stay closed that day
We were named one of Rochester's Top Workplaces in 2017 and 2019!