5 tips to avoid hitting a deer – Number 2 is obvious!
It all happens so quick, right? You're driving down a dark road with your high beams on and as you drive up over a small hill—BAM…there he is. Standing tall, frozen by your headlights.
As the season begins to change, and the sun starts to set earlier, the deer start to roam more throughout the night. What does this mean for you as a driver? This means you'll need to use more caution when driving in populated deer areas or you might end up needing to repair your vehicle.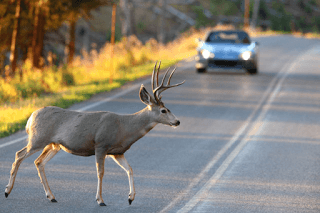 Let's start with the statistics:
According to the National Highway Safety Administration (NHSA), there are approximately 1.5 million deer-related car accidents annually across the nation.
Deer are most frequently hit during dawn and dusk.
The average repair cost of a car-deer collision is $4,000.
Breeding season runs from October through early January. Deer are highly active and on the move during this time.
As pack animals, deer almost never travel alone.
Some preventative techniques from Hoselton Auto Mall include:
Slow down. The most important way to avoid hitting a deer is to SLOW DOWN. Following the speed limits in your area make it possible to brake sooner if needed.
Wear your seat belt. Some drivers described hitting a deer head on felt like hitting a brick wall. If this is true, you'll be glad your seat belt is on!
High Beams. Use your high beams whenever the road is free of on-coming traffic. This will increase your visibility and help make those glowy-green eyes pop out more.
Honk! As mentioned above, some deer can become memorized by bright lights so if you see a deer, flash your lights or we recommend using one long honk of your horn to scare them out of the road.
Do not swerve. It's a natural instinct to want to swerve your car when you see a deer in the road but stay calm! Swerving could make you lose control of your car, making the situation worse. Deer are also very unpredictable, and you could swerve right into their path
If your car does happen to come in physical contact with a deer, always remember to keep your distance. A frightened deer can injure you as well as injure itself further. Contact the authorities if the animal is in the middle of the road because it could be a danger to other drivers. Lastly, Hoselton Collision Center and Body Shop is here for all of your repair needs. The Collision Shop works with all insurance companies and has "Preferred Shop" status with many of the leading automotive insurance companies, and is now Nissan Certified. Lastly, (but just as important) Hoselton Auto Mall now has an insurance agency to help you with all of your insurance needs. This includes vehicle, homeowners, renters, umbrella and more.