Introducing the new way to buy from Hoselton Auto Mall
Welcome to the new way to buy a car from Hoselton Auto Mall. When you shop at our Express Store, you can do as much — or as little — as you want from the comfort of your home! View real-time payment information, value your trade and see a final purchase price on any vehicle! Getting started is easy — let's walk through the new way to buy your vehicle on www.HoseltonToyota.com or www.HoseltonNissan.com!
First, using the browser or mobile device of your choosing, pull up HoseltonToyota.com. Then click on "Express Store" in the navigation and then "Shop All Models".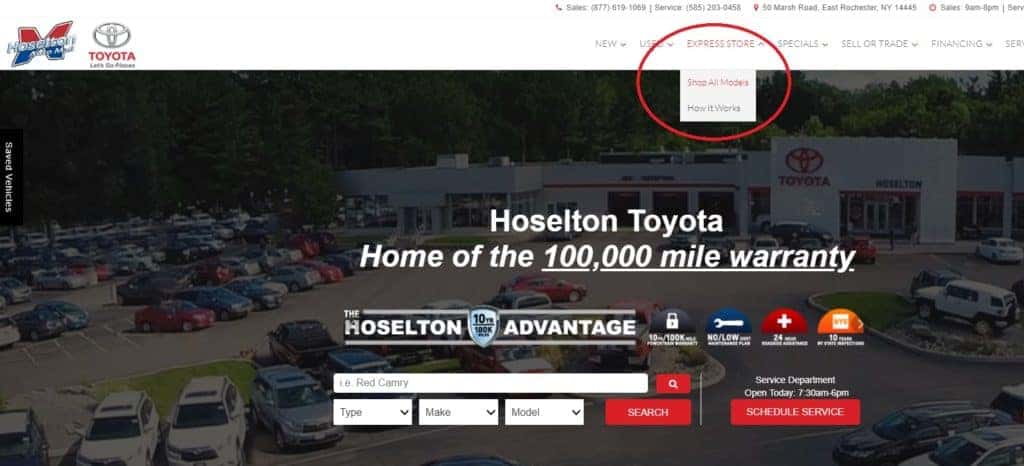 Once you've selected that, you will be directed to a page with all available models, Toyota in this example. If you don't see the model you are looking for or want to search by body type and/or key features, you can filter the vehicles by using the menu on the left-hand side of the page. There you can sort by price, model, year, features, etc..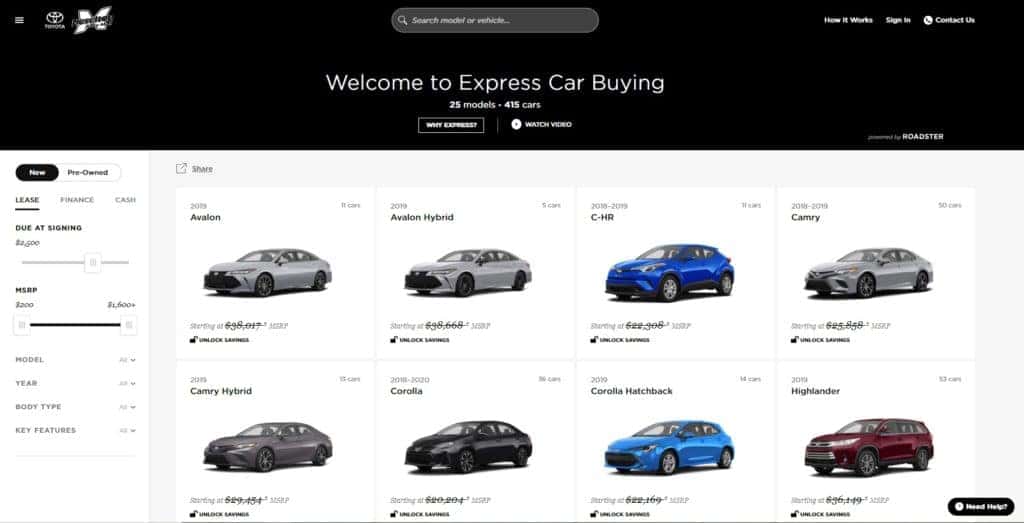 To see pricing for a particular vehicle, you will need to "Unlock Savings" by filling our your name, e-mail address and phone number.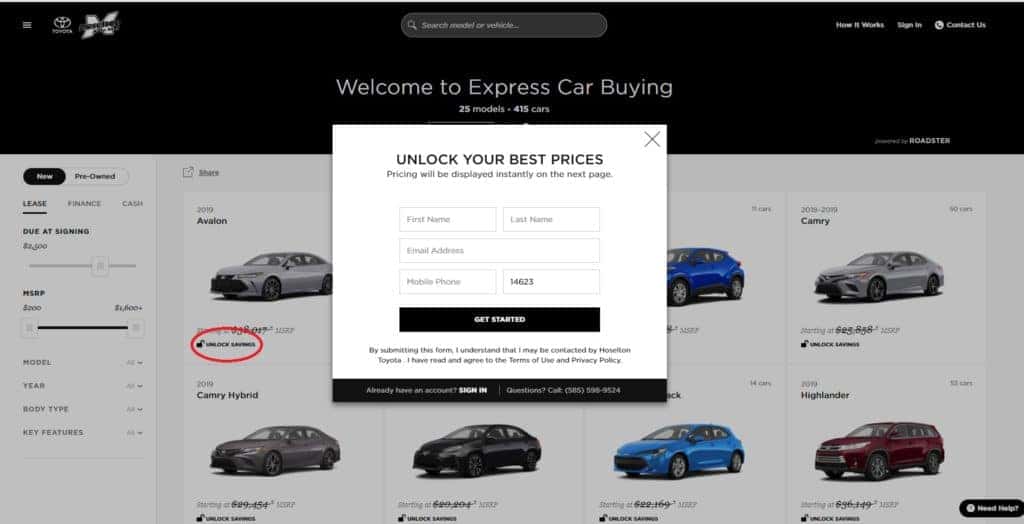 Now, all pricing will be displayed for all models and trim levels.
Let's look at a 2019 Toyota Rav4 to continue the online shopping experience!
After you select the model, you are brought to the vehicle detail page. This is where you can begin to configure your price and payment. We're making it as easy as possible for you! Right at the top, you can pick and toggle between leasing, financing or purchasing outright. If you select leasing, for example, you can see how your monthly payment changes when you modify the amount you wish to put down at signing. The price will also change based on the term of your lease — which you can conveniently select just below the amount due at signing.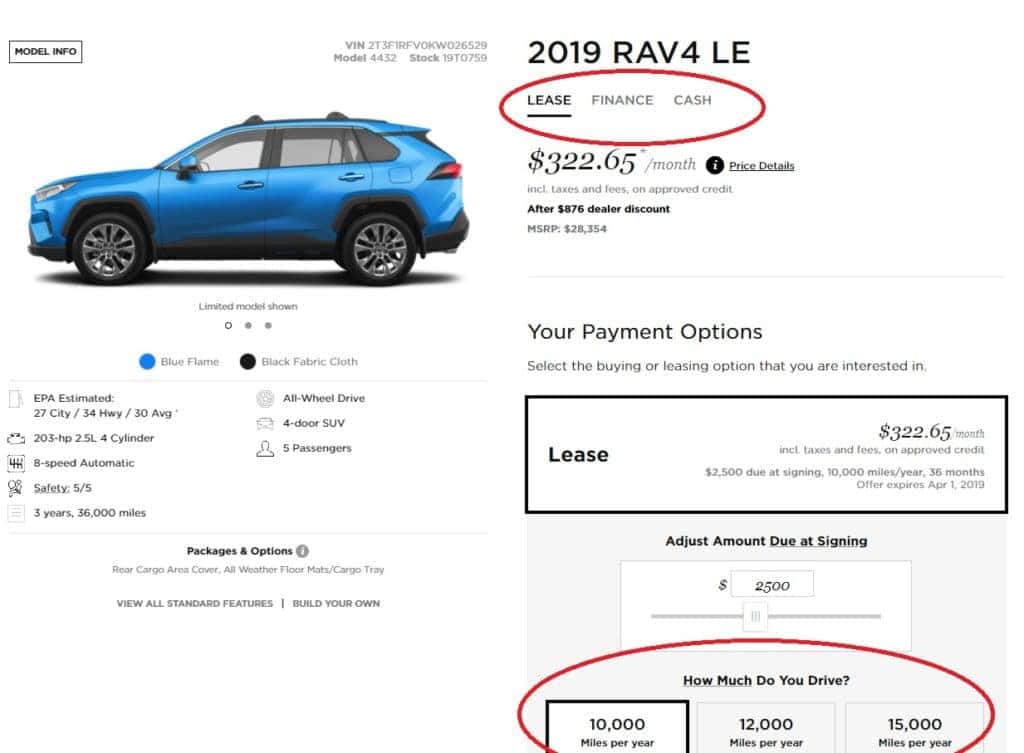 Do you qualify for additional savings? Are you a recent college grad or have served in the military? We offer discounts for both and you can easily apply these savings to your online purchase price. Have a trade-in? We can evaluate that online for you as well. Then the value of your trade-in will be subtracted from the final purchase price of the vehicle.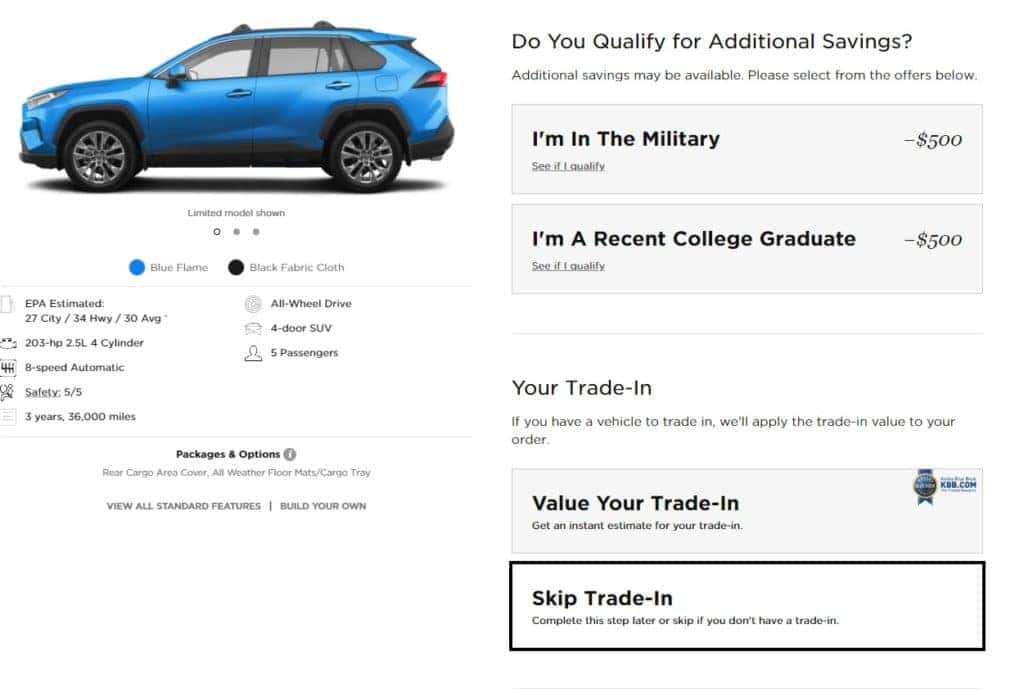 It's important to protect your new or used vehicle. We offer a variety of service and protection plans. If you're not familiar with them, you can click on the info icon for more information.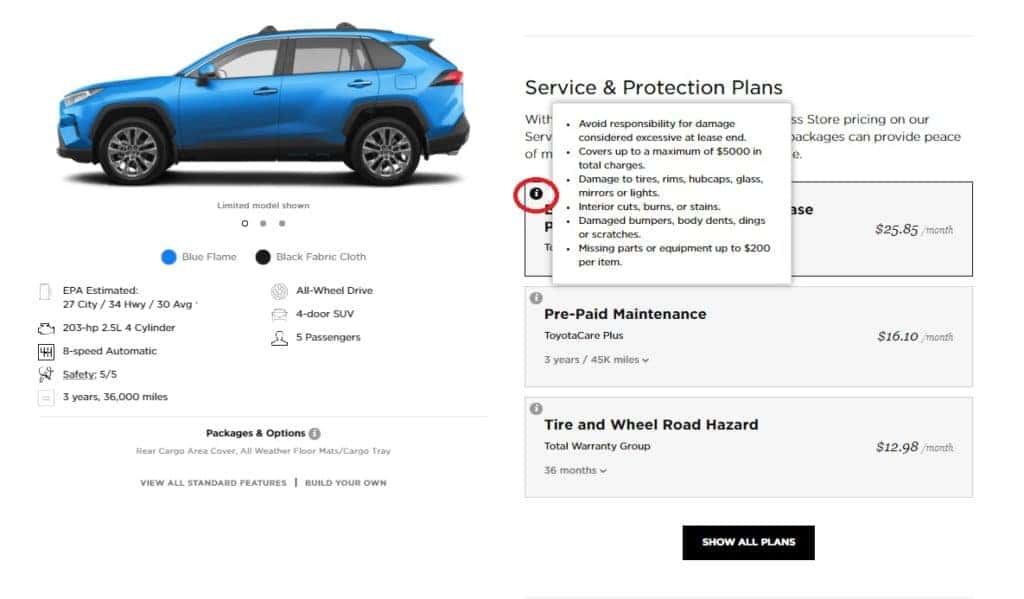 That's it — you've made it to the end of our short and easy process! From here, you can complete your transaction by clicking on "lease this car" in our example. This sends your specifications over to one of our managers to review, approve and get your vehicle ready for you. If you're not quite ready to purchase or lease, you can click "save" to save this vehicle and the configurations you've made. You can easily access this again by visiting our Express Store and logging in!